Operationalizing Flexible Professional Learning
Move from sit-and-get workshops to flexible and more powerful professional learning
For many educators, professional development triggers unhappy memories of sit-and-get information on any number of topics related to education. Participants are often asked to sit with a large group in a large room and glean information on their own from the expert up front. Implementation in the classroom after the training is limited due to a "knowing-doing" gap.
If we want teachers to shift their teaching practice, then trainings must change to opportunities where coaches model structures of professional learning to a small group with shared needs and goals that focus on strategic application in the classroom.
Effective professional learning:
recognizes staff as learners and places their needs first.
uses goal-based challenges that allow staff to personalize and follow different learning paths.
recognizes learning is both social and a process, not a single event.
is continuous, engaging, and relevant to application in the classroom.
models differentiated learning needed for all types of 21st-century learners, melding technology and instruction.
Effective professional learning also allows flexibility to differentiate with district-wide and building initiatives, promoting site leadership, and empowering staff to design their own learning.
Over the last several years, we have worked diligently to create professional learning structures that meet this vision of professional learning. Here are seven ways we have implemented actionable, flexible, and meaningful learning moments for teachers and students.
Innovation Challenges
Innovation Challenges are tiered professional learning opportunities released periodically throughout the year for teachers to explore and complete on their own. Each Challenge has a professional learning goal, several levels, and within the levels are several strategy choices for teachers to implement in their classrooms with students.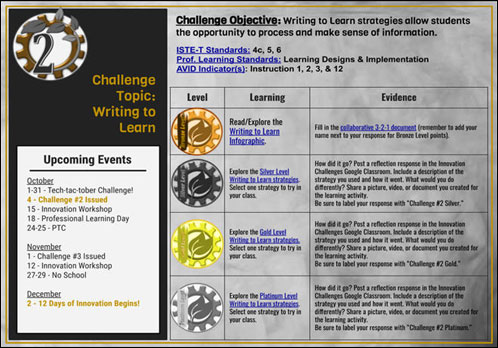 View more Innovation Challenges
Challenges focus on specific classroom application and help skip the "knowing-doing" gap because teachers are implementing strategies right away. Each challenge is leveled for teachers to choose their learning need or amount of growth, providing them with multiple avenues to reach a desired learning outcome.
FLEX (Flexible Learning EXperiences)
FLEX activities are designed to help teachers meet their professional learning goals, from any device and any location with an Internet connection.
Each FLEX activity has a learning objective, an opener that consists of a hook and/or anticipatory set, a set of knowledge tasks, and a set of application tasks. Within the knowledge tasks are opportunities to read articles, watch videos, find research pertaining to your own work as a professional educator, consider other viewpoints, and reflect on your current practice. The application tasks include planning documents and easy-to-use implementation ideas that encourage teachers to apply what they've learned in meaningful ways with their students or in their work.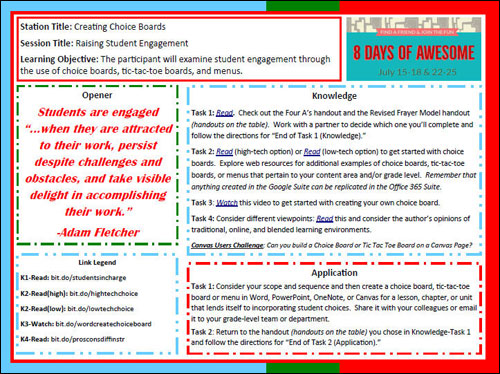 Throughout the model, there are opportunities to collaborate with peers, leaders, or coaches to further facilitate reflection and effective application. Teachers get to decide what works best for them. To earn professional development credit, teachers must submit an application with evidence of how they collaborated and reflected on their practice during the process.
Hackathons
Hackathons stem from the technology/business world. The idea is to get a group to focus intently for a short period of time to design a product. In the context of education, Professional Learning Communities get together to really hash out an instructional and student-learning-focused issue. Teachers enlist the help of colleagues and find actual solutions. It's teachers helping teachers become better versions of themselves!
12 Days of Innovation
The 12 Days of Innovation are mini, daily, collaborative tech challenges that are fun and spark ideas for classroom application. Spanning 12 days, one mini-challenge is released each day with the intended goal of experimenting with one idea for how they will use an instructional tech tool.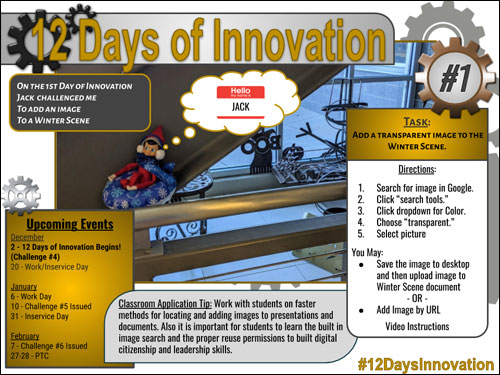 PL Snaps
PL Snaps are professional learning opportunities that focus on reflective growth and professional sharing among colleagues and PLN's. These ongoing reflective PL strategies can take various forms, such as One Word Challenges, Flipgrid Reflections, Goal-Setting, Google Slides Reflection Compilation, Twitter Posts, etc. A PL Snap is an active way for staff to analyze and share their impact on student learning and determine next steps.
Edu-venture
Inspired by Katie Martin, teachers choose their own path and method of professional learning for an Edu-venture. Edu-ventures are open year-long for teachers to explore. Teachers may begin an Edu-venture at any time by submitting their Edu-venture Proclamation. This lets professional learning staff know what teachers are working on so that they can determine what kind of support to offer or simply check in on teachers.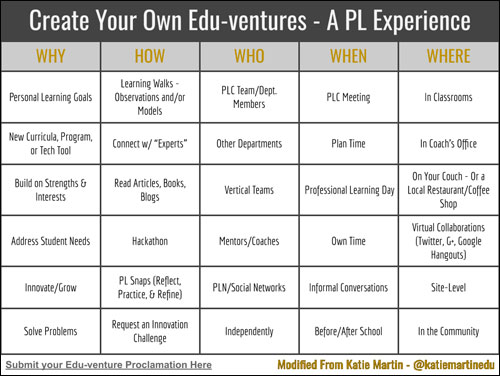 Stations/Playgrounds
Stations and playgrounds provide opportunities for teachers to navigate through instructional ideas at their own pace. During station or playground work, teachers can also explore new technology tools and develop their own lessons and materials, providing them with first-hand experiences essential for successful classroom implementation.
Set up modules to support work at stations and playground with tools like Google Classroom and Canvas. Creating environments within each station where teachers must collaborate with a colleague can help you build and strengthen each teacher's PLN.
This list is just the beginning
Teachers should experience ongoing professional growth that is meaningful for each individual, no matter where they are in their career. Experienced and brand-new teachers alike have varying levels of professional learning needs. They are not all the same.
How will you deviate from the traditional set-up to create meaningful professional learning experiences?
How will you operationalize flexible and meaningful professional learning?
Additional Reading and Resources
Lead Like a Pirate by Shelley Burgess and Beth Houf
The Art of Coaching by Elena Aguilar
Do We Really Need PD? by Katie Martin
How to Move PD Forwardby Shelly Blake-Plock
Turning the Tables on Professional Learningby Keith Janelli