Literature Suggestions for Student Adaptation
Great books to help turn your readers into writers.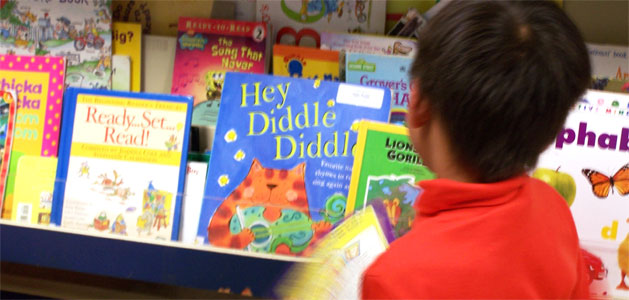 Encourage emerging readers and writers by turning them into authors as you create your own versions of your favorite books. Here are some of our favorite titles for student adaptation, whether you have each student create a single page of a class book, work collaboratively to adapt a classic, or ask each student to design their own book.
Brown Bear, Brown Bear/Polar Bear, Polar Bear by Eric Carle
Use the repetitive text to describe an environment, habitat, community, or holiday.
Mary Wore Her Red Dress by Merle Peek
Students draw pictures of themselves and write descriptively about their dress, hobbies, and more.
In the Tall, Tall Grass by Denise Fleming
Create a sentence starter "In the tall, tall grass" with space for a noun and a verb. Perfect for inventive spelling.
Fox in Socks by Dr. Seuss
This fun story challenges the reader with rhyming sentences like, "Sue sews rose on Slow Joe Crow's clothes." Put your students in the driver's seat by asking them to use their knowledge of phonics to write their own tongue twister stories.
Caps, Hats, Socks and Mittens by Louise Borden
"Winter is caps, hats, socks and mittens" could be "Math is…, "Desert is…, America is…"
I Love You, A Rebus Poem by Jane Marzollo
"Every bird loves a tree, every flower loves a bee, every lock loves a key, and I love you. " Have student create their own "backwards" poems. Great for a Valentine's project in intermediate grades.
Diary of a Worm by Doreen Cronin
Make up a diary of an animal, a famous person, a life cycle, or a landmark. Tell from first-person narrative.
Guyku by Bob Raczka
After reading from this collection of seasonal haikus for boys, have your students write their own haikus. Collect them into a class book of poetry.
Pet Show! by Ezra Jack Keats
After reading Pet Show! by Ezra Jack Keats, ask your primary learners to paint a picture of their "fantasy" pet, describe the award it would win, and create your own class pet show.
Down by the Bay by Raffi
Practice phonics and phonemic awareness by asking students to write their own verse for Raffi's Down by the bay song.
It Looked Like Spilt Milk by Charles G. Shaw
Fill the background with color and paint shapes. "It looked like a cat but it wasn't" At the end, "It was just a cloud."
This is the Way We Go To School by Edith Baer
This is the way we (do an activity). Show drawings or photos of the correct way to do something.
There's a Wocket in my Pocket by Dr. Seuss
This story tests students phonemic awareness and phonics with rhyming creature names. Challenge students to apply their knowledge of phonics by choosing a location and then developing a own name for a creature based on the location.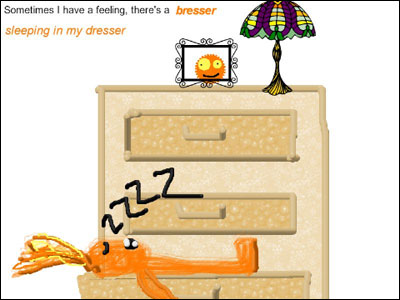 Rosie's Walk by Pat Hutchins
Have students create their own "walk" stories using a range of prepositions.
How to Read a Story by Kate Messner
Have students create their own "how-to" books.
The Important Book by Margaret Wise Brown
Practice descriptive writing. "The important thing about grass is that it is green. It's soft and feels squishy. But the important thing…"
Things That Are Most in the World by Judi Barrett
Use imaginative adjectives to define superlatives. "The smelliest thing in the world is a skunk convention."
Cloudy with a Chance of Meatballs by Judi Barrett and Ron Barrett
Forecast the weather with strange items falling from the sky, such as elephants or candy bars.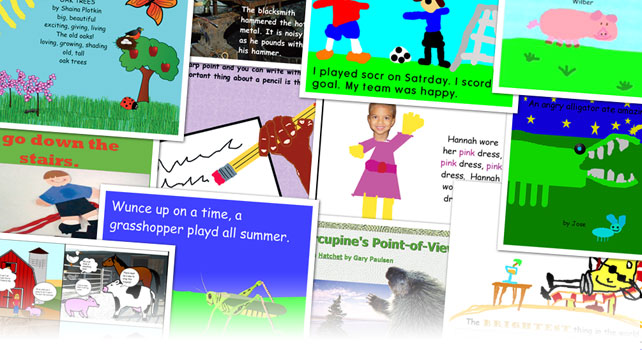 Build literacy with creativity!
Ideas and student samples
Advertisement