Using music effectively in project work
Ideas to have students consider as they work to use music to convey feelings and match the goals of their work
In our current generation and culture, music is ubiquitous, appearing in the public service announcements and news we catch, in the movies and TV shows we enjoy, and in the YouTube videos and tutorials we watch. Nearly every place we go and everything we do has a soundtrack.
Since it plays such a huge part in our culture, students are accustomed to using music as a way to make connections to the people around them. Incorporating music into project work, offers a level of depth that cannot be obtained through simply just text, pictures, or speech.
Here are some ideas to have your students consider as they work to convey feelings and the goals of their work through the use of music.
Background Music
Even though we may not notice at first, music plays constantly in the background of almost everything we watch. Why? Music can capture our attention, getting us into something before we have even seen it. Music can also help maintain our attention. Ever notice the people who love to listen to music as they are working? It helps them focus!
Good background music can serve as a great complement to your work. Neutral, or slightly uplifting, music generally fits best for this role. To help distinguish what neutral music sounds like, you should look out for a few things:
Make sure the music has a steady pace and tone, with no heavy shifts. Abrupt shifts in pace and tone diverts attention to the music itself and away from your content.
Play the music at an appropriate volume. Play it too loud, and the music becomes distracting; too low, and the viewer won't hear anything at all.
Use instrumentals the majority of the time. Having lyrics can easily move music from the background into the foreground of your work, distracting your viewer, even if they don't know the words.
Emotion
A deliberately chosen theme or soundtrack can affect the emotional impact of a story. Everyone knows John William's composition for Jaws and shudders whenever they hear it. This is probably why Steven Spielberg hired him to write the theme music for Jurassic Park too. These movies would not have been nearly so culturally impactful without this music.
Compared to background music, this addition of music doesn't necessarily have to fit some formula or criteria. You can even cut out music completely to deliver more dramatic elements to certain sections of your story. So don't just go out choosing a random song on a whim or choosing a song just because you like it. Make sure it has relevance to the topic and makes your viewer feel the way you want them to feel.
Test, preview, and get feedback
Finally, make sure to always test and preview your work before finalizing it! Here are a few things to consider as you choose and implement your musical choices:
Does the music fit?
Why did you choose this sound/song/music in the first place?
How are you using the music? As a neutral background or to evoke emotion?
Don't add music too liberally and make sure that your main focus isn't being taken away by this. Solicit a friend or peer's opinion and be sure to get lots of feedback. If you are leading a class, set up a critique workshop to formalize this process. Ask students to give each other both warm (positive/things they like and want to keep) and cool (things to improve or change) feedback.
Make sure this feedback is specific too. Short responses such as "it's good" or "I like it" (this happens quite often) are definitely positive, but aren't necessarily helpful or critical enough to review. Ask the students to elaborate by asking "what about their work is good?" or "what specifically do you like about their project?" and so forth. Do this in small groups and have the group members rotate in reviewing each other's work.
Don't limit yourself in using a critique workshop for music only; you can use critique for anything!
Music matters
Music gives a level of depth that cannot be portrayed through text on a page, photographs, or speech. While these have their own purposes, music has an equal value that deserves a place alongside them. Whether you use it in an obvious or subtle way as part of a project, music can support the foundation and structure you already built, strengthening your message.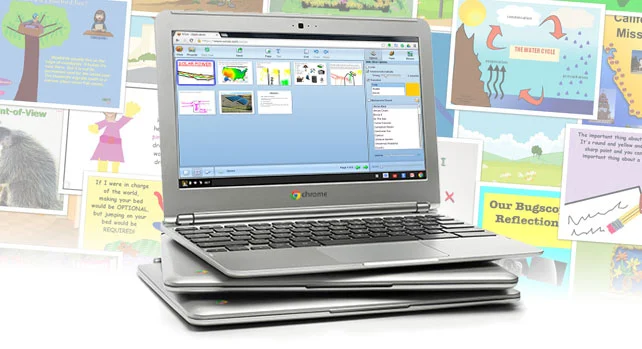 Getting Chromebooks?
Stay creative with Wixie!