Map It!
Students create maps to show the geographic features, regions, and economy of a state or region.
Task
A cartographer is someone who makes maps and charts to help people get information about a place. In this project, you will become an expert cartographer as you make maps that show geographic features, political features, and economic information for your state.
Engage
Collect examples of political maps, physical maps, and maybe even economic and topographic maps and share with students. Have students bring in examples of maps they find in newspapers, magazines, and brochures.
Activate prior knowledge by asking students to brainstorm the different things they find on the maps. Work with students to find and identify the compass rose, scale, and legend (or key) on the maps. Ask students why it is important to have these items on a map and to explain how they help us read and understand the information in them.
Have students sort the sample maps into different groups depending on the features found on them. You can use the Map Features template in Wixie to create an anchor chart that lists the features found on a political, physical, or economic map. Discuss why each type of map is important and describe the information that you can find when using them.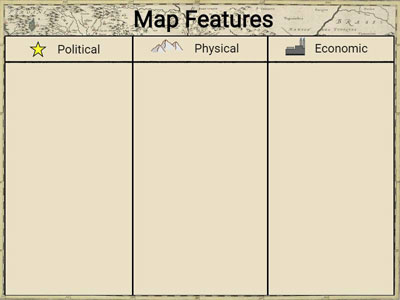 Let students know that they will be using their cartography knowledge and skills to create a political, physical, and economic map.
Have students work in small groups to brainstorm things they know about the state or region they are studying. After they list their ideas, have them circle the words that relate to a political map in blue, a physical map in green, and an economic map in red. This will help them think about the different types of information they can add to their map.
Create
Provide students with a printed map outline of the region they are showcasing or have them create the map using a digital tool like Wixie to create a political, physical, or economic map. Students can open the Templates folder to find map outlines of each state or province. Tools like Wixie makes it easy to add:
text to name and label important cities and places,
painted artwork to show details like mountains and rivers, and
icons to identify where crops are grown and goods are produced.
The goals of your classroom will determine which type, or types, of maps that you ask students to create. If you are studying your state specifically, it makes sense to have each student make their own individual political, physical, and economic maps.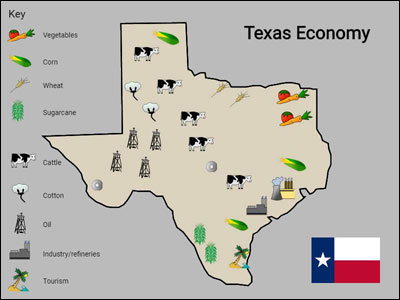 If you are studying the entire United States, or a continent like South America, have students work in small teams to research information about these locations and create a map, or maps, that provide important information to students in the class who studied other regions.
If students used a digital tool, project their maps to make them easier to see and share as students present. You will also want to create and share print versions of each map.
Share
Hang the printed maps in groups by type so everyone can see them. Have students identify similarities and differences between the maps. Have them identify new information that they learned from other students' maps and presentations.
Assessment
You can assess for prior factual knowledge as the class brainstorms information about maps and the region you are studying. As students explore and sort the different map examples you share, you will be able to assess their understanding of the different types of maps and what information they convey.
Use student discussions about the compass rose, scale, and legend to identify misconceptions before they begin creating their maps. Continue evaluating their understanding as they present and compare the maps they create.

You will be able to specifically assess their factual knowledge about the region students are studying through their research notes. Their political, physical, and economic maps will also allow you to assess both map making skills and factual knowledge about the region.
Resources
Ducksters: Facts and information about each state (contains ads)
Color Landform Atlas of the US
Standards
NCSS- National Council for Social Studies C3 Framework
Dimension 2: Geography
D2.Geo.1.3-5. Construct maps and other graphic representations of both familiar and unfamiliar places.
ISTE Standards for Students
6. Creative Communicator
Students communicate clearly and express themselves creatively for a variety of purposes using the platforms, tools, styles, formats and digital media appropriate to their goals. Students:
a. choose the appropriate platforms and tools for meeting the desired objectives of their creation or communication.
b. create original works or responsibly repurpose or remix digital resources into new creations.
c. contribute constructively to project teams, assuming various roles and responsibilities to work effectively toward a common goal.
d. publish or present content that customizes the message and medium for their intended audiences.