Pop Art Montage
Students explore the work of Andy Warhol and create their own pop art montage.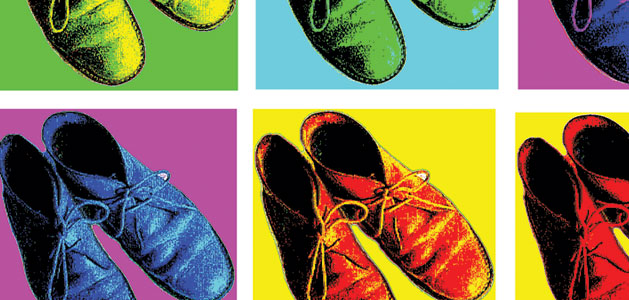 Task
Andy Warhol transformed contemporary art, challenging the differences between fine art and popular culture. In this project, students explore the ideas of pop art and mass appeal and design their own pop art montage in the spirit of Andy Warhol.
Engage
Begin by exploring Andy Warhol's ideas about Pop Art through his quote:
"Everything is beautiful. Pop is everything."
Ask your students what Warhol means by the word "pop." Students may be able to connect it with other terms like pop music, pop icon, pop artist.
Use books, websites like Artcyclopedia, and other media resources to familiarize students with the life and work of Andy Warhol.
Share examples of Andy Warhol's popular art, such as:
10 Marilyns, 1967
Mickey Mouse, 300 SL Coupe, 1954
Campbell's Soup Can, 1965
According to Miriam-Webster's Online Dictionary, Pop Art is "art in which commonplace objects (as road signs, hamburgers, comic strips, or soup cans) are used as subject matter and are often physically incorporated into the work."
Introduce students to words like "mass appeal," "mass produced," and "iconic" and ask if they know what these mean. You might want to show an object like a fidget spinner, or Chinese takeout box, to get them thinking.
Then, work together to create a list of familiar and iconic mass-produced items like specific models/brands of cars, cell phones, candy, or fast food.
Create
Share how Warhol elevated mass-produced, iconic objects into unique works of art by using repetition and dramatically changing their colors.
Let students know that they will be creating their own pop art using an image of a pop culture object and Warhol's technique of color and repetition.
Have student create a pop art template with several different colored boxes. If you are using Wixie, students can open the Pop Art file in their Templates library.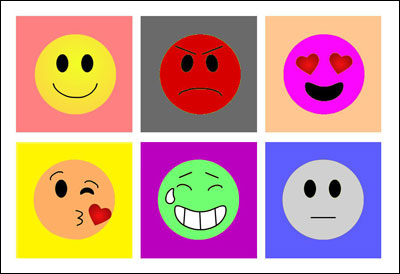 Have students locate an image of an object they think meets the definition of mass-produced and iconic (or even just popular, depending on the age of your students). Then, have them use imaging and paint tools to adjust the color of the boxes and objects.
If students are using Wixie, they can search the Stickers Library for simple images of popular food or objects. After they add them to the page, they can select the objects, go to the Edit menu and choose Glue to Paint layer to adjust colors using Wixie's Paint bucket fill tool.
Share
Print the images to display them as an art exhibit in your classroom or school or reach out to a local coffee shop or even small business to see if they might be interested in showcasing student work in their office.
Combine individual student work into one document using Wixie's Project Wizard feature to make it easy to run a slide show for a digital art installation. You can also export the class book as a PDF or an ePub, so students can read and enjoy on their devices at home.
If you want a more professional looking published product, export student work as JPG files and upload to a photo-sharing site. Then, use the site's features to publish a coffee table-style or paperback book.
Assessment
As you ask students to define pop culture, mass production, iconic and other connected terms, you will gain an idea of their comprehension of their meaning. Their choice of a subject for their pop art image will also help you assess their understanding of popular culture and mass appeal.
As they build their pop art image, you can evaluate their artistic ability to use color for dramatic purpose and feeling.
Resources
Joyce Raimondo Make it Pop!: Activities and Adventures in Pop Art
Susan Goldman Rubin Andy Warhol: Pop Art Painter
Artcyclopedia Andy Warhol
Standards
National Core Arts Standards:
Creating
1. Generate and conceptualize artistic ideas and work.
2. Organize and develop artistic ideas and work.
3. Refine and complete artistic work.
Performing/Presenting/Producing
5. Develop and refine artistic techniques and work for presentation.
Responding
7. Perceive and analyze artistic work.
9. Apply criteria to evaluate artistic work.
Connecting
10. Synthesize and relate knowledge and personal experiences to make art.
ISTE Standards for Students:
6. Creative Communicator
Students communicate clearly and express themselves creatively for a variety of purposes using the platforms, tools, styles, formats and digital media appropriate to their goals. Students:
d. publish or present content that customizes the message and medium for their intended audiences.