Student-created Grammar Tutorials
Creating multimedia grammar tutorials provides students with an opportunity to demonstrate their knowledge while helping their peers.

"I have given much thought over the past year about the progress of students in my Title I classroom. After innumerable worksheets and countless review activities on the interactive whiteboard, some students still lack mastery over grade-level grammar and language skills.
A new grant-funded iPod Touch cart means I finally have a media viewing device for every student. At the ISTE conference, I learned how some teachers were creating JPG flashcards with images and text for vocabulary review, and I became convinced there was a way I could use this technique to help my struggling students.
I knew that my below-grade-level readers would have difficulty with some of the words, so I created Wixie projects that include pictures, text, and voice narration. I created a Web page with URLs to the tutorials so my students could see and hear them for review and to learn about a concept on the iPod Touch.
While making Wixie tutorial was easy and fun for me, I soon realized that having my students create the multimedia grammar tutorials would provide them with an opportunity to demonstrate their knowledge while helping their peers.
Each student-made tutorial had to include a title page and a page that introduces the skill being demonstrated. The remaining pages in the tutorial include examples of the concept.
Students enjoyed building tutorials by themselves or in small teams, first planning on paper and then creating the final product in Wixie. Some students prefer to stick with the basics, while others inject their own personality into their tutorials.
Now, when I notice someone having a grammar problem, I refer them to a student-created tutorial designed by one of their peers… and when one of my students shows mastery of a concept, I know it's time for them to create one of their own!"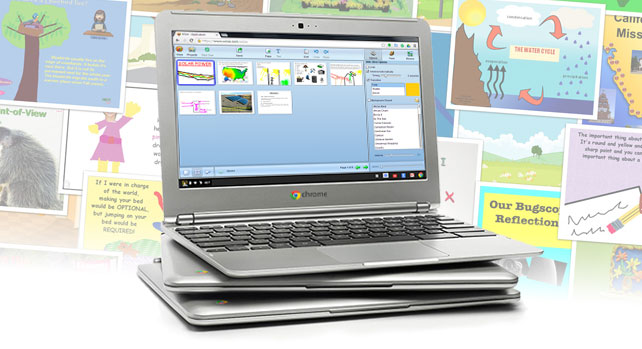 Getting Chromebooks?
Stay creative with Wixie!